Over the last week or so Family First (a group promoting family values in New Zealand, http://www.familyfirst.org.nz) conducted a survey of their readership.  Nearly all of the questions were around family and moral issues.  The results showed very strong support for the work they do, and the position they take.
 There was one question in the mix that was a bit different from the rest.  It was about New Zealand's ETS, Emission Trading Scheme, or in other words our carbon tax.  The statement was "New Zealand should scrap the Emissions Trading Scheme (ETS)."  67% strongly agreed or agreed that it should be scrapped.  19% were neutral or unsure.  While 14% strongly disagreed or disagreed with scrapping it.  There were about 2400 responses.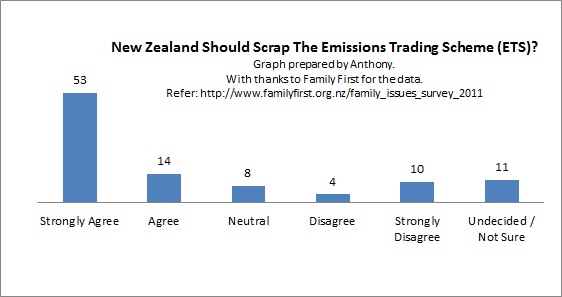 'Democracy in action', or was that democracy 'inaction'.  New Zealand's politicians seem to be following the wish of the 14%.
Given Family First's primary focus is not environmental, I suggest that the reponse to this question would represent the general feeling of New Zealanders.