Just over two years ago, early 2011, a decadal global temperature bet was made.
At that time December 2010 marked the end of the last 10 year period.  January 2011 marked the beginning of the next.  The transition stimulated the formation of a decadal global climate bet.  Would the next decade be hotter than the decade just past?  Would it be cooler?  Or would the difference be so little that the result is statistically insignificant?
And so the warmists and the coolists are having a bet.  It has been agreed to use a composite of Remote Sensing Systems (RSS) and University of Alabama Huntsville (UAH) lower troposphere temperature – close to the earth's surface. The result will be accepted without quibbling, as it is agreed that it's the best we've got. The average of the two will decide the bet!
The bet started out over at Pierre Gosselin's site, No Tricks Zone.
http://notrickszone.com/join-the-climate-bet-for-charity/.
So how is it going now that we are now almost a quarter of the way through the race?
Its a close race!  The light blue line shows that the average of Jan 2011 to April 2013 is a whisker cooler than Jan 2001 to April 2003.
(Update note, as at 31 May 2013 the running average is 0.06 deg C cooler)
(Update note, as at 30 June 2013 the running average is 0.051 deg C cooler)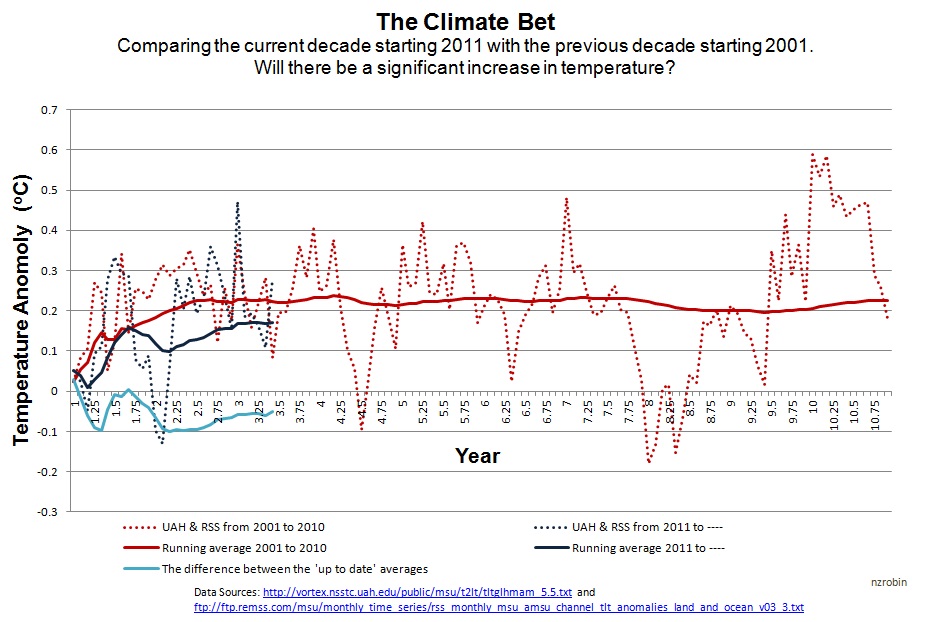 (Note: when I updated the graph with May 2013 data I noticed there was an error with the running average calculation.  This has now been corrected) (Now updated with June 2013 data)
The graph is based on the average of satellite measurements collected and recorded by scientists at the UAH and RSS.  If you want to check the data for yourself, here are the links to the raw data; UAH data and RSS data.