Four years ago, early 2011, a decadal global temperature bet was made. And with all the hype about 2014 being the hottest year, now is a good time to check out progress with 'the bet'. But first a little background for any newcomers.
At the time the bet was made (early 2011) December 2010 marked the end of the previous ten year period. January 2011 marked the beginning of the next. The transition stimulated the formation of a decadal global climate bet.
And so the coolists (led by Pierre Gosselin – NoTricksZone) and the warmists (led by Rob Honeycutt – Skeptical Science) are having a bet.  They agreed to use a composite of Remote Sensing Systems (RSS) and University of Alabama Huntsville (UAH) lower troposphere temperature – close to the earth's surface.  They agreed that the result would be accepted without quibbling, as it was agreed between them that those series are the best that we've got.  The average of the two series will decide the bet!
I have shown 'the race' as it progresses by graphing an accumulating total, ie: adding 1/120th of the average of the UAH and RSS monthly global anomalies month by month.  The sum of these numbers after 120 months (10 years) is of course the global decadal average.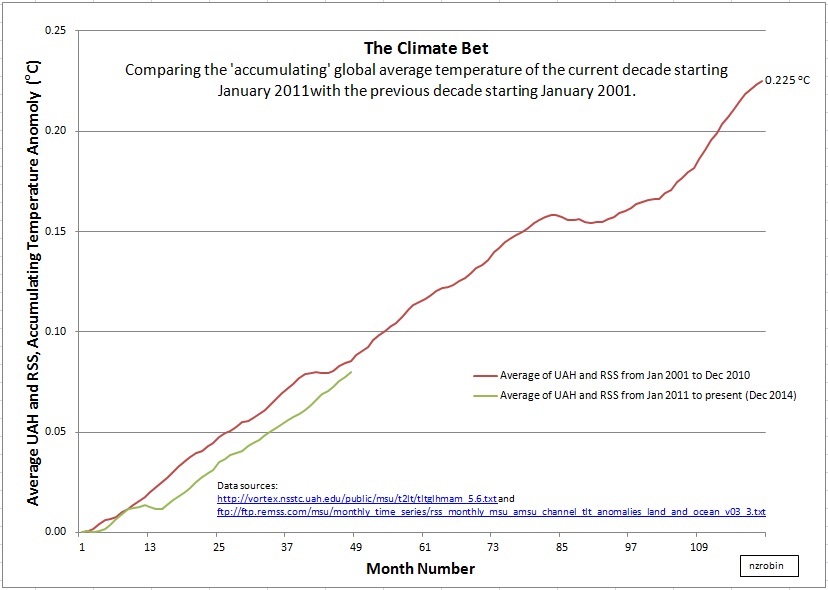 We are now 40% through the race … and clearly it is still close with the coolists in the lead by half a nose.
Now back to the hype we're hearing about the 'hot' 2014. Notice that during 2014 (months 37 to 48) the green line just keeps trucking along at the same basic slope as it has for the past few years and much of the previous decade too. There was even a small El Nino in 2014, whose effect is conspicuous by its absence. Maybe the heat that is missing in the observed atmospheric temperature trend is hiding in the ocean?  😉
A spreadsheet with all the data and graph is available for download from this folder: https://drive.google.com/folderview?id=0BwCJWmtRR6xeMnVaOHBrTWRVRmc&usp=sharing
Earlier posts:
http://www.kiwithinker.com/2013/05/the_decadal_global_climate_bet/
http://www.kiwithinker.com/2013/11/a-decadal-global-climate-bet-a-second-view-of-the-race/
http://www.kiwithinker.com/2014/01/a-decadal-global-climate-bet-three-years-down-the-track/